Immerse yourself in an unforgettable 3D film experience featuring the most advanced digital and audio technologies. Stadium seating ensures there isn't a bad seat in the house as the 3D action comes to life on our 30'x40' giant screen with 18,000-watt Dolby® sound system and 3D glasses that provide the absolute best cinema experience – sharper and brighter than anything you've witnessed before. You may honestly forget you're sitting in a theater.

Please click Here to visit our online Box Office
Movies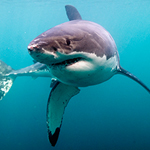 Showing: Daily
Recommended for: Ages 6+
Runtime: 40 Minutes
Opens November 28
Misrepresented, maligned and misunderstood, the great white shark is an iconic predator: the creature we love to fear. Great White Shark explores the great white's place in our imaginations, in our fears, and in the reality of its role at the top of the oceanic food chain. Shot on location in South Africa, New Zealand, Mexico and California, the film looks to find the truth behind the mythic creature forever stigmatized by its portrayal in the world's first blockbuster movie, JAWS. Great White Shark concludes the oceanic trilogy begun by Wild Ocean and The Last Reef, and brings nature's greatest predator to Giant Screen 3D as never before.
---
Showing: Daily
Recommended for: All Ages
Runtime: 40 Minutes
What you can't see is all around you! Discover creatures and events that are too small, too fast or too slow to see with the naked eye. High-speed and time-lapse photography, electron microscopy, and nanotechnology reveal an entire universe that has always been here–we just never knew it existed.
Special Nanoscale Presentation for School Groups only:
After seeing Mysteries of the Unseen World, continue your journey into the hidden nano-universe! With a Science Center STEM Educator as your guide, experience live demos and see 3D images from our own Scanning Electron Microscope. (10 minutes)
---
Showing: Daily
Recommended for: Ages 6+
Runtime: 45 Minutes
Travel back in time to see dinosaurs come to life! Meet the plant-eating Argentinosaur, the largest animal to have ever walked the Earth, and its nemesis, the Giganotosaur, a carnivore who could easily challenge the famous T-rex. Travel into space to witness the movement of tectonic plates or the arrival of a comet that will seal the fate of the Dinosaurs. The action is intense and the landscape is out of this world!
---
School Groups Only
Creative Creatures Stage Show
Explore wild habitats to discover why and how different creatures adapt to their surroundings. You will even help create a new creative creature! After the show, all participants are invited to the River of Life Gallery to get up close and personal with some of our favorite critters and ask additional questions.
For more information, contact Brit Montmeat, Group Sales Account Manager, at 860-520-2112 or via email.
45 minutes; now accepting reservations
Hidden Universe 3D
Recommended for: All Ages
Runtime: 45 Minutes
Take an extraordinary journey into space! The deepest reaches of our universe are brought to life with unprecedented clarity through real images captured by the world's most powerful telescopes. Explore the earliest galaxies, watch stars being born in vivid clouds of gas and dust, tour the surface of Mars, and witness images of distant celestial structures including stunning views of the Sun. Hidden Universe 3D is 45 minutes long and is recommended for all ages.
3D Sun
Stand above the Arctic Circle and witness the most brilliant auroras on Earth. Ride a solar blast from the Sun's surface to Earth's Magnetosphere. Witness the most powerful explosions in the solar system – equal to a billion megaton nuclear bombs.
http://ctsciencecenter.org/documents/theater/CT-Science-Standards-Film-Matrix.pdf
Forces in Motion Multi-Media Stage Show
A unique program format to engage your students in physics and introduce them to Newton's Laws. Combines live demonstrations with video and other imagery projected on the theater's 30′ x 40′ screen.
---